Submit calendar info to:
calendar@corvallisfolklore.org
Jul
14
Fri
yOya with opener JE Sunde

@ Corvallis Arts Center
Jul 14 @ 7:30 pm – 9:00 pm
yOya
alex pfender – vOcals, guitar
noah dietterich – keybOards, vOcals
yOya is the project of longtime songwriting partners Alex Pfender and Noah Dietterich. Natives of Corvallis, and friends since the fifth grade, Pfender and Dietterich grew up to the sound of rain in the fir trees and 'Graceland' on cassette. When the duo moved to California to study music they found themselves absorbing the electronic sounds of the LA scene. What emerged was yOya's unique mix of folk-hearted songs, intricate vocal harmony, gritty synths, and electronic beats. The LA Weekly describes yOya as "one of LA's top 3 Live Bands".

Combining classic folk songwriting with contemporary electronic beats, yOya's latest single "The Heartwood" evokes "a cabin high in grassy hills or a rooftop overlooking a gleaming city," according to Consequence of Sound. The trio has recently shared stages with Bleachers, Moses Sumney, Avi Buffalo and many others. Learn more at their website: yoyatheband.com.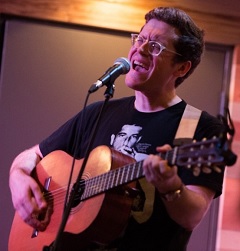 JE Sunde is a well known indie-folk singer-songwriter who has appeared on NPR's "All Songs Considered".
"J.E. Sunde is one of the greatest indie-folk singer-songwriters around."
-Daytrotter