Submit calendar info to:
calendar@corvallisfolklore.org
Feb
25
Sun
Daimh

@ Whiteside Theatre
Feb 25 @ 7:00 pm – 10:30 pm


Daimh, Gaelic Supergroup and unchallenged champion, play straight in the eye Highland music and are based around West Lochaber and the Isle of Skye.
Formed around the turn of the century and taking the name from the Gaelic word for kinship Daimh (pronounced Dive) have taken their contemporary take of Highland and Gaelic music to over 20 countries, setting audiences alight from Moscow to San Francisco.
With a reputation as giants of the Bagpipes and Fiddle, Angus Mackenzie and Gabe McVarish lead the melodic powerhouse with fellow founder member Ross Martin underpinning the groove on the Guitar. The Band is joined by new guy Murdo Yogi Cameron on Mandola and Accordion to complete the instrumental line up.
Mar
2
Fri
John McCutcheon

@ First Presbyterian Church
Mar 2 @ 7:30 pm – 10:30 pm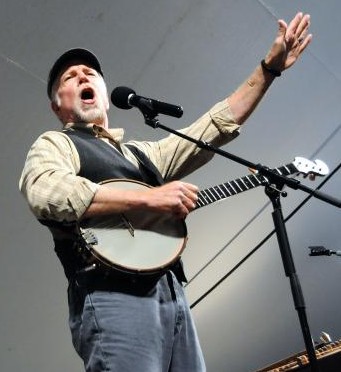 Multiple Grammy-nominee John McCutcheon charms audiences with "story telling that has the richness of fine literature" (Washington Post) and his mastery of a stage full of folk instruments is simply amazing. He plays guitar, fiddle, autoharp, banjo, jaw harp, (hambone if we are lucky) and is best known for his hammered dulcimer playing. A John McCutcheon concert is always energizing, fun, uplifting, community building, and his audiences leave with a renewed sense of hope for humanity. "This notion of telling stories of ordinary people who have done great things, and carrying those stories from one place to another, of telling people 'this is where I've been, these are the stories I can bring you,' is the heart of what I do," McCutcheon sums up. "That's my goal. If you can recognize yourself in my songs, then I've done my job." He lives in Georgia but keeps moving, toward wherever he senses there's still a story yet to be told.
His 30 recordings have gathered many honors including 7 Grammy nominations. His most recent honors the centenary of Joe Hill's death on November 19th, 1915. John McCutcheon brings Joe Hill's music to a whole new audience. With fresh arrangements, stunning musicianship, and released on a palette that makes these songs feel as though they were written today rather than a century ago, there is a life and vitality that is both rare and refreshing. In honor of Woody Guthrie's 100th birthday John recorded THIS LAND: Woody Guthrie's America. He assembled an all-star cast of songs and musicians to honor America's most enduring folksong writer: Willie Nelson, Tommy Emmanuel, Kathy Mattea, Tim O'Brien, Stuart Duncan, Tom Chapin, Tom Paxton, Maria Muldaur and more. McCutcheon offers fresh new arrangements and exciting new interpretations of many of Woody's most well-known songs. He has so much material we never know what he might perform, and of course he gives the audience a chance to request their favorites so plan ahead!
But it is in live performance that John feels most at home. It is what has brought his music into the lives and homes of one of the broadest audiences any folk musician has ever enjoyed. People of every generation and background seem to feel at home in a concert hall when John McCutcheon takes the stage, with what critics describe as "little feats of magic," "breathtaking in their ease and grace…," and "like a conversation with an illuminating old friend."
So if you want to laugh, cry, be inspired, and feel like you are a part of a big community, then don't miss this concert. More information about John McCutcheon his website is at www.folkmusic.com For info or to volunteer, call Chere Pereira 541-753-9224.
Whether in print, on record, or on stage, few people communicate with the versatility, charm, wit or pure talent of John McCutcheon.
Mar
15
Thu
The Gothard Sisters

@ Whiteside Theatre
Mar 15 @ 7:00 pm – 10:30 pm
The Gothard Sisters
The Gothard Sisters are a dynamic group of three sisters, whose impressive array of talents have set them apart as one of the most refreshing and compelling acts in Celtic music today.
The sisters' unpredictable and theatrical flair brings a youthful splash to the time-honored tradition of Celtic folk music, bridging the gap between modern Pop and Folk-Rock with a sunny, optimistic style that has been described as "beautifully-arranged, melodic-minded Celtic Folk-Pop."
Hitting the streets of their hometown – Edmonds, Washington – in 2006, The Gothard Sisters first began playing together as a violin trio busking for tips at the local farmer's market, working their way onto stages at local fairs and festivals. Audiences responded with enthusiasm, and over 1,000 performances later the band recently performed at the Millennium Stage at the Kennedy Center in Washington D.C., completed several national concert tours of the United States, regularly perform as guest entertainers on Disney Cruise Line in Europe and South America and are well-known musicians on the national Celtic festival circuit.
In December 2016 The Gothard Sisters charted on Billboard's World Music Chart with their latest Christmas album, Falling Snow, alongside notable Irish music phenomena Celtic Woman and Celtic Thunder.