Submit calendar info to:
calendar@corvallisfolklore.org
Nov
30
Thu
A Winter Gift – "Patrick Ball" Harp & Stories

@ Unitarian Universalist Fellowship
Nov 30 @ 7:00 pm – 9:00 pm
A Winter Gift
is presented by three of the premier Celtic Harpists in the world. Patrick Ball, Lisa Lynne & Aryeh Frankfurter perform Celtic legends, along with Irish and English literature woven together with beloved and rare pieces of holiday music. 
This trio is well known for  their first show "Legends of the Celtic Harp" which tells stories and legends of the harp through time. In their new show "A Winter Gift" storyteller and wire-strung harpist Patrick Ball along with harpers and multi-instrumentalists Lisa Lynne & Aryeh Frankfurter step into a magical world of Irish and English literature. The trio presents a heartwarming collection of tales and music from Celtic legend and traditional folk stories. They perform a  Child's Christmas in Wales, a chapter from The Wind in the Willows, and passages from Shakespeare, William Butler Yeats, and Thomas Hardy, and mingle them with beloved and original pieces of seasonal music. Audiences will hear three Celtic Harps, Swedish Nyckelharpa, Fiddle, Bandura, Bouzouki and more. www.LegendsOfTheCelticHarp.com
Patrick Ball is an American master of the Irish harp and a captivating spoken word artist. He has recorded nine instrumental and three spoken word albums which have sold well over a half million copies internationally, winning national awards in both the music and spoken word categories. Patrick's critically acclaimed concerts and solo theatrical productions have toured extensively throughout the United States, Canada, Ireland and the UK, and have been awarded grants by the California Arts Council and the Circle of Excellence Award from the National Storytelling Association. www.PatrickBall.com
Lisa Lynne is a multi-instrumentalist and performer who has gained worldwide recognition for her original music featuring her Celtic Harp. She is widely acclaimed for composing memorable and heartwarming melodies on the Windham Hill/Sony music labels that have repeatedly placed in the Top 10 & Top 20 on the Billboard New age music charts. Lisa tours year round performing at large US festivals and performing art centers. Her work in Therapeutic music has gained recognition from NBC, CNN, Fox News Atlanta and numerous newspaper and magazine articles including Wall Street Journal. Lisa's music is heard throughout the award winning PBS special "Alone in the Wilderness," amongst many other soundtracks for commercial television and independent films.Lisa was recently selected by Los Angeles Magazine as one of 50 most inspiring women. www.LisaLynne.com
Aryeh Frankfurter is also a renowned Celtic harper and world traveling multi- instrumentalist who went from virtuosic progressive rock violin to intricate Swedish folk and Celtic Music. He began with Classical violin at the age of three, his early studies and successes led him to explore various ethnic and international musical genres. Aryeh taught himself to play a variety of instruments bowed and plucked and most recently the rarely seen Swedish Nyckelharpa. His uncommon approach to the Celtic harp and folk harp repertoire, his numerous critically and commercially successful albums have earned him credit as a musician, recording and performance artist of extraordinary talents and abilities. www.Lionharp.com 
Dec
16
Sat
WINTERDANCE a Celtic Christmas Celebration

@ First Presbyterian Church
Dec 16 @ 7:30 pm – 10:30 pm
WINTERDANCE
a Celtic Christmas Celebration
Molly's Revenge
special guest vocalist Christa Burch
The Murray Irish Dancers
(out of Portland) will present an evening of music, song and dance associated with the festive season. The performance will include Christmas songs both old and new, all played with a Celtic twist, as well as selections from the band's new album.
The California-based group has toured internationally since 2000 as an acoustic band, releasing ten CDs. In 2013, Molly's Revenge as a trio released an all-instrumental collection titled Trio, recorded at a remote windswept retreat in the redwoods of the Mendocino coast. Trio is a compelling collection of fierce and beautiful tunes encompassing Scottish pipe sets, driving Irish reels, jigs, polkas, slides, and hornpipes, French Canadian fiddle tunes, and even a set of American oldtime melodies featuring Highland pipes.
Molly's Revenge, whose lineup includes bagpipes, fiddle, whistle, guitar, mandola, and bodhran, have toured extensively in the USA as well as Australia, China and Scotland.  The band is known for its unique and infectious on-stage enthusiasm. Their arrangements of traditional jigs and reels bring these dance tunes up to date with a driving, hard-edged accent that always leaves audiences shouting for more.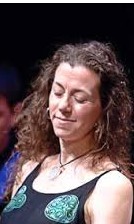 Guest vocalist Christa Burch possesses a singular voice: warm, supple, expressive, intimate, and instantly recognizable. Part of a vibrant new generation of American folk singers, Christa deftly marries intuitive musicianship and storytelling through song. To balance the gentle beauty of Christa's songs, The Murray Irish Dancers bring a percussive, joyful, and colorful exuberance to the stage. This 11th Annual Celtic Christmas Celebration will capture the traditional spirit of the season and warm the hearts of all.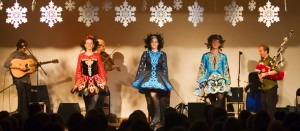 The Murray School of Irish Dancing offers classes for students of all ages and levels wishing to become outstanding Irish dancers.  At the Murray school we believe in supporting students through enhancing their self esteem and confidence.  We also encourage our students to work hard and strive for excellence.  Through this they will develop skills that will last a lifetime.  We endeavor to create a safe learning environment for all students through mutual respect and responsibility towards all teachers, students and parents in The Murray School.  We welcome students from all levels of dance experience and of all cultural backgrounds to learn about  Irish Culture, Music and Dance and to be part of the Murray team.