First Congregational Church, 4515 West Hills Road,Corvallis OR
Tickets (June 16 on): $18 in advance, $20 at the door. CFS members, Seniors over 65 & Kids under 13 get $2 discount. Little bitty kids that can be on laps, free. Online Tickets ($18 plus a ticket(discount as above)/plus a handling fee) avaliable at www.Tickettomato.com/event/4920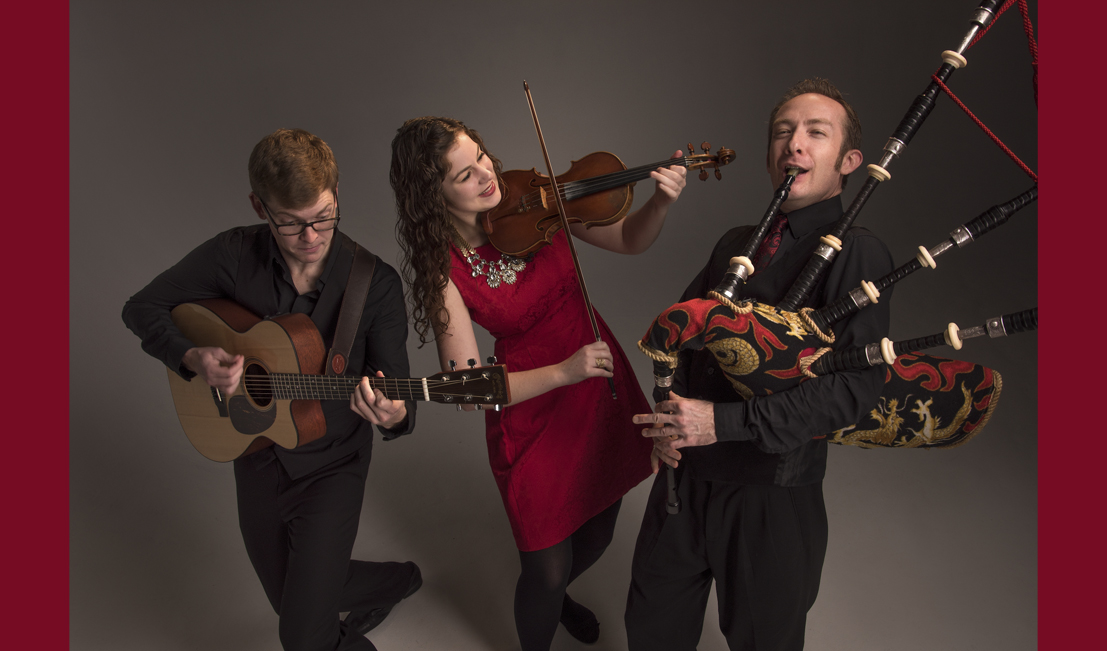 The Fire:  Adam Hendey on guitar & bazouki, Rebecca Lomnicky on Scottish fiddle, David Brewer on Highland pipes and whistles.  Rebecca is from Corvallis.
The press release of their CD, The Fire is below:
Rebecca Lomnicky and David Brewer are a high energy pure-drop Scottish music duo, with world class fiddling talent in combination with bagpipes, guitar, bodhran, and whistle. International Scottish Fiddle Champion, Rebecca Lomnicky, and David Brewer of the popular Celtic band Molly's Revenge, have each spent copious amounts of time delving into the traditions of their respective instruments, living and studying in both Edinburgh and the highlands of Scotland. Together they perform captivating Scottish music which bridges the gap between the fiddle and bagpipe music of Scotland—two worlds united, into a heartfelt and rousing musical experience. Between their entertaining and informative stage banter, their four instrument combinations and vast repertoire of tunes, including everything from soaring slow airs to intricately arranged dance tunes, these charismatic performers will leave you on your feet with your hands together.
The release of THE FIRE marks Lomnicky and Brewer's second album together and fully showcases every aspect of their stylistic expertise, technical prowess, and musical passion. Combining the aesthetic elements of all their past recordings into a newer finely crafted sound, this album features the diversity of Scotland's traditional regional styles with an added contemporary flare.
Lomnicky's internationally awarded virtuosic fiddling is featured throughout on tracks ranging from an ancient haunting Scottish air and a traditional Cape Breton medley, to a contemporary set of syncopated driving reels. While Lomnicky's expertise of the Scottish tradition is widely recognized, as proven by her many accolades, this album extends those boundaries by additionally showcasing her brilliance in both playing and composing within the contemporary Scottish style. Brewer's complex and mature compositions are featured even more prevalently throughout the album, and range from a sauntering strathspey to an epic seven part jig. Brewer's immense knowledge of the Celtic musical spectrum is presented in fine style here with virtuosic Gordon Duncan tunes played both on bagpipes and whistles, as well as a truly grand arrangement of Mark Saul's bagpipe band piece, "The Beaches of Harris." In addition to the tracks where he takes the lead, Brewer is also an accomplished accompanist, and perfectly complements Lomnicky's fiddling with both sensitive and dramatic guitar lines, and intricate polyrhythmic percussion on the bodhran. Lomnicky and Brewer are also joined by acclaimed guest guitarist, Peter Willis, on three tracks, including one of Willis' own composition. With its traditional roots, vast diversity, and magnificent innovative spirit, THE FIRE is a phenomenal and unique representation of both the past and the present of Scottish music, as well as an indication of its future.
Notes about the new addition to the group:
Adam Hendey is a multi-instrumentalist and composer who has performed in Ireland, the UK, and across the United States, playing and studying with members of Lúnasa, Flook, and Molly's Revenge. Since beginning tin-whistle at thirteen years of age, Adam has dedicated himself to the traditional music of Scotland and Ireland, while also becoming well versed in other forms of popular music. On guitar and bouzouki, Adam brings an innovative contemporary approach to traditional music, with a passion informed by intense study of music theory and a diverse wealth of musical experience. In addition to performing, Adam is currently a student in the Robert D. Clark Honors College at the University of Oregon, where he is pursuing majors in Music and Philosophy. This June, Adam released his debut solo album, Forward, which features appearances by both Rebecca and David. For more about Adam, please visit:www.adamhendey.com