Saturday, Dec 16, 2017, 7:30 pm     
First Presbyterian Church, 114 SW 8th St.        view the poster
Advance tickets will be available at Grass Roots Books (starting Nov. 5). The cost is $18 in advance for CFS members (or seniors 65+)  and $20 for nonmembers; add $2 at the door. Tickets are $10 for children under 12.  Starting about Nov 3, tickets will be available online at: https://www.tickettomato.com/5165#   (Priced as above with a small transaction fee)
The discounts and child's tickets  only show after you do the  "Add to Cart" button on the Ticket Tomato page at the URL shown above.
Info: (541) 753-8307     Molly's Revenge Website:  http://mollysrevenge.com
Molly's Revenge and special guest vocalist Christa Burch with The Murray Irish Dancers (out of Portland) will present an evening of music, song and dance associated with the festive season. The performance will include Christmas songs both old and new, all played with a Celtic twist, as well as selections from the band's new album. 
The California-based group has toured internationally since 2000 as an acoustic band, releasing thirteen CDs. In early 2016 the band traveled north to a secluded retreat among the redwoods on the Mendocino coast, where they worked night and day to put together a record that could surpass the band's previous 12 releases. 

In addition to a wealth of lively Irish and Scottish jigs and reels, for this new album, "Lift", they also recorded Scandinavian and French melodies, tapped into the old-time American tradition, and departed to include a Swedish song melody on bagpipes, and melody from a hurdy-gurdy jam which leads into a Quebecois reel.
Molly's Revenge, whose lineup includes bagpipes, fiddle, whistle, guitar, mandola, and bodhran, have toured extensively in the USA as well as Australia, China and Scotland.  The band is known for its unique and infectious on-stage enthusiasm. Their arrangements of traditional jigs and reels bring these dance tunes up to date with a driving, hard-edged accent that always leaves audiences shouting for more.
Guest vocalist Christa Burch possesses a singular voice: warm, supple, expressive, intimate, and instantly recognizable. Part of a vibrant new generation of American folk singers, Christa deftly marries intuitive musicianship and storytelling through song. To balance the gentle beauty of Christa's songs, The Murray Irish Dancers bring a percussive, joyful, and colorful exuberance to the stage. This 12th Annual Celtic Christmas Celebration will capture the traditional spirit of the season and warm the hearts of all.
"A seriously joyous, masterly musical experience." — Tom Clancy, Irish Music Magazine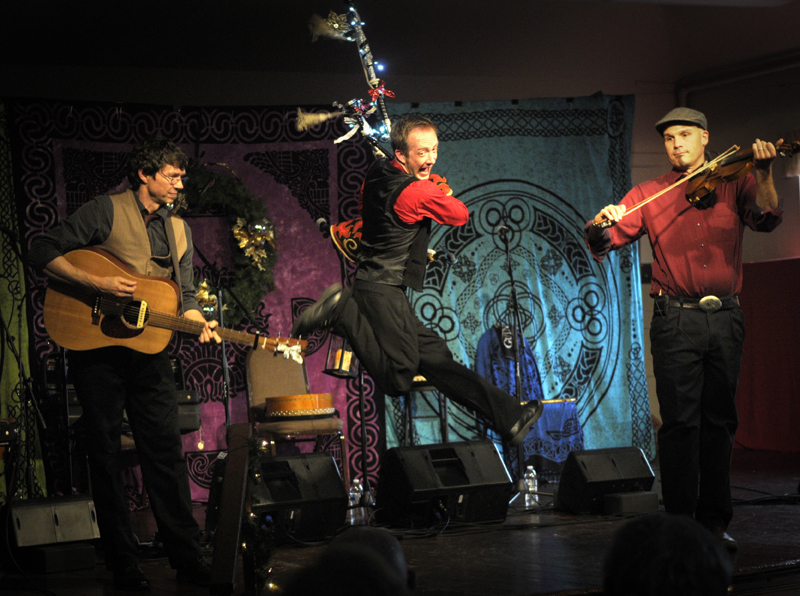 These folks gave an outstanding concert last year.  The crowd was enthusiastic, especially when the musicians upped the tempo and the Irish dancers joined in with gusto. David Brewer is the most vigorous piper I have ever seen.  He also plays whistles and bodhran (Celtic drum).  The group has fun playing songs of the season with a Celtic twist; like Carol of the Bells turned into Carol of the bodhrans.  Christa has a gorgeous voice and lovely vocal ornamentation.  One of the dancers was a Regional Irish dance champion last year.    Dick Thies