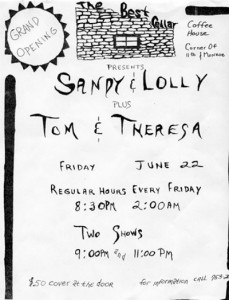 The Best Cellar celebrated its anniversary 40 years to the day after it started on June 22, 1973. Larry Edgar provided the sound reinforcement as he has done for almost every Best Cellar since he helped create it, and there were performances by several groups and individuals who have been active with the program over the years.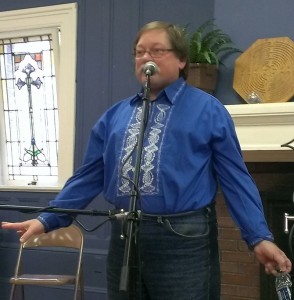 Mark Weiss, the current Best Cellar producer, introduced the perfomrers: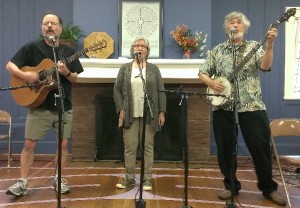 Dick and Diane Thies, performing together and with Bill Smyth,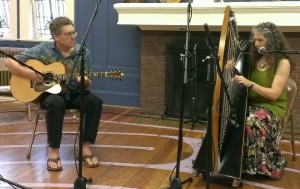 Dave Thormahlen and Sharon Maurer,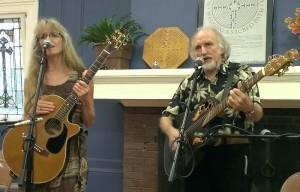 Tom and Ellen Demarest – Tom was one of the Best Cellar founders, performed at the first Best Cellar and currently produces concerts as Oregrownmusic.com,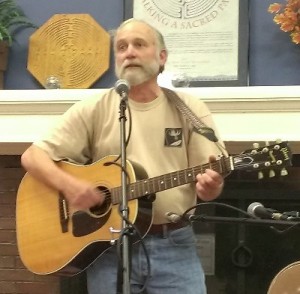 Chris Mundt, who's helped run the Best Cellar for many years,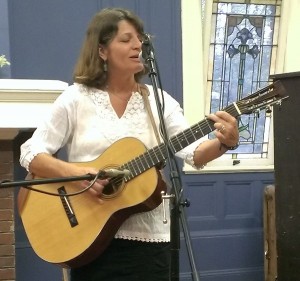 Audrey Perkins, performing a rare solo with guitar,
The Best Cellar founders, Tom Demarest, Linda Benson and Larry Edgar, were introduced and acknowledged,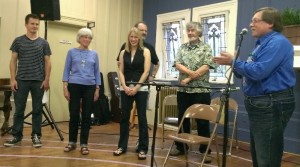 as were past and present Best Cellar producers, Jay Yaich, Ann Warren, Bill Smyth and Rita Brown, Dick Thies and Mark Weiss.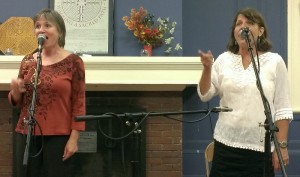 Audrey Perkins returned with Barbara Gladstone to sing about a fish,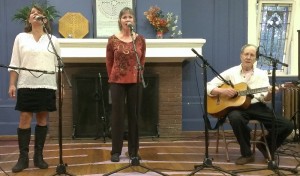 and Neil Gladstone joined them to sing Save Our Planet, which for many years was the closing song at the last Best Cellar each year,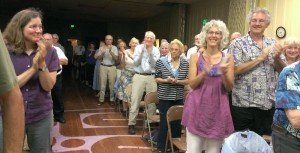 leading to a standing ovation by the very large crowd.  This Best Cellar was held upstairs in the Methodist Church because the crowd would have filled the usual basement room several times over.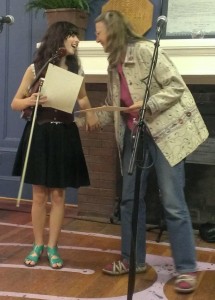 After intermission, Tatiana Hargreaves was awarded the Corvallis Folklore Society student scholarship award by co-president Marfa Levine, after which Tatiana performed a couple of songs.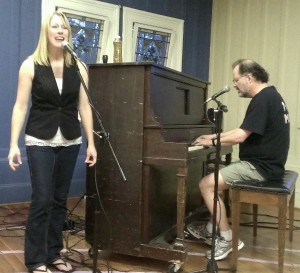 Bill Smyth and Rita Brown, long-time performers and former producers, played next,

then MC2, with Mark Weiss and Cliff and Chere Pereira. Mark has produced the Best Cellar for the past several years, and Chere has done the concert booking for CFS for decades!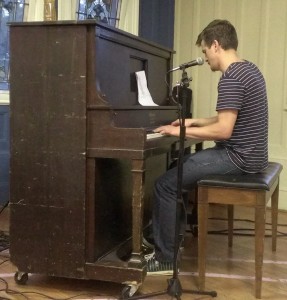 A piano solo by former Best Cellar producer Jay Yaich,
and a final sing-along with the performers closed the show.