Submit calendar info to:
calendar@corvallisfolklore.org
May
3
Thu
Willamette Valley Old-Time Social

@ Various - see website
May 3 @ 6:00 pm – May 6 @ 7:00 pm
Immerse yourself in traditional
American music and dance at the
Willamette Valley Old-Time Social
May 3rd – May 6th!
Mud City Old-Time Society is once again hosting the region's 3rd annual old-time music and dance celebration, the Willamette Valley Old-Time Social in Eugene, Oregon May 3rd-6th. There will be a Thursday night kickoff party at 1st National Taphouse with four local bands including, Huff & Meade, Sugar Pine String Band, The Eugene City Barnstormers, and Grand Ronde String Band. Friday night will feature a BBQ social and jam fest, and on Saturday there will be a whole day of workshops at The Shedd Institute for the Performing Arts, focused on old-time fiddle, banjo, guitar, dance and voice, including one with two-time Grammy-nominated fiddler Bruce Molsky and his Mountain Drifters-Allison de Groot and Stash Wyslouch! Saturday evening we will offer flatfoot dance lessons with Rebecca Stout and a big traditional square dance at the W.O.W. Hall with The Horsenecks and Gabe Strand calling. The weekend will finish off with a Sunday farm brunch and later that evening, a farewell concert at Sam Bond's Brewing with The Local Honeys from Kentucky.
This event is sponsored by; Bubbaville, Stumptown Printers, 2Towns Ciderhouse, Zigzag Mountain Farm, 100 Mile Bakery and the Eugene City Barnstormers. Mud City Old-Time Society is a local nonprofit dedicated to supporting traditional old-time music and dance in the Southern Willamette Valley. Come and be a part of the thriving Pacific Northwest old-time music scene and experience the community-building power of traditional American music and dance!
May
11
Fri
SINKING CITY POP FEST 2018

@ Several venues in Corvalls - see text or website
May 11 @ 7:00 pm – May 13 @ 9:00 pm
We're throwing a fest!
Sinking City Pop Fest
is happening here in Corvallis, Oregon
from May 11-13, 2018.
We're still very much in the planning stages, but it's going to be a stacked weekend of all-ages DIY punk shows and events around Corvallis to celebrate our awesome community. There will be a ton of updates on this project in the next few months, so check back here or join our fb group to stay in the loop.
Touring bands often refer to the stretch of I-5 between Portland and San Francisco as the "dead zone." In 2015, some friends started organizing shows under the umbrella of Corvallis DIY in an attempt to make Corvallis a more visible destination for punk, indie, emo, and hardcore bands booking their own tours. At the same time, we started hosting regular meetups and throwing events like Band in a Hat and the Halloween cover show to get people excited about participating in their local community. Our scene has been growing steadily since then, and Corvallis has gained a reputation as a fun, semi-secret place to play on the west coast – a rainy city sunken into the heart of the Willamette Valley.
Sinking City Pop Fest is not-for-profit and volunteer-run. All proceeds after expenses will be donated to the Rural Organizing Project, an intersectional nonprofit that supports radical organizing efforts in small Oregon communities.
Stay tuned for the show schedules and ticket presale information.
BANDS
Adieu Caribou (Salem/Corvallis)
Bad Dates (Corvallis)
Bobby's Oar (Seattle)
Broken Dead (Eugene)
Dogbreth (Seattle)
Dooley (Corvallis/Eugene)
Flexing (Corvallis)
Garage (Corvallis)
GLIT (Eugene)
Lisa Prank (Seattle)
Mr. Wrong (Portland)
Plattenbau (Berlin)
SEACATS (Seattle)
Shaene Marie Pascal (Corvallis)
The Shifts (Eugene/Corvallis)
Special Moves (Olympia)
trying to be brave (Corvallis)
Watercolor Paintings (Thousand Oaks/Oakland)
Wayside Ghost (Eugene/Portland)
The Wobblies (Portland/Corvallis)
VENUES
Interzone (Friday night)
1563 NW Monroe Ave, Corvallis, OR 97330
Mudville Stadium (Saturday matinee)
House / ask-a-punk
Chintimini Community Center (Saturday night)
2601 NW Tyler Ave, Corvallis, OR 97330
Nearly Normals (Sunday matinee)
109 NW 15th St, Corvallis, OR 97330
SPONSORS
Razorcake, Interzone, Sacred Art Tattoo, Nearly Normals, Bullfrog Music, Happy Trails Records, & The Arts Center
Aug
17
Fri
Harris Bridge Folk Festival

@ Harris Bridge Vineyard
Aug 17 @ 4:00 pm – Aug 19 @ 8:00 pm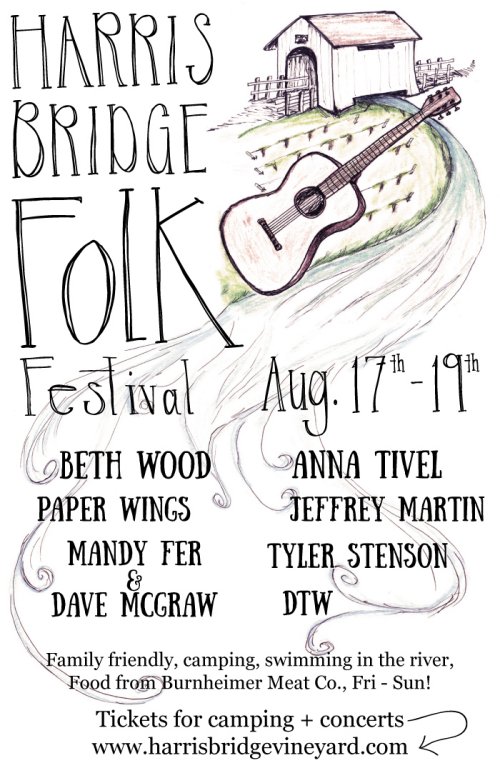 The Harris Bridge Folk Festival (Aug. 17th – 19th) features PNW songwriters Anna Tivel, Jeffrey Martin, Beth Wood, Dave McGraw & Mandy Fer, Tyler Stenson, and Wilhelmina FrankZerda, our very own songwriter from just up the road in Summit, Oregon. The weekend will be filled with concerts, camping, swimming, food, all family friendly (Children 8 and under are free!), so come spend the weekend with us!
TICKETS (Both Concert and Camping passes) available on the Harris Bridge Vineyard website (www.harrisbridgevineyard.com).
FRIDAY Aug 17th
SATURDAY Aug 18th
12pm: DTW concert on the river
3pm: Depart for the Summit Fest (10 mile drive into the woods) for an afternoon and evening of arts, crafts, music, all in support of the Summit Community.
SUNDAY Aug 19th
FOOD: Brad Burnheimer will be cooking all weekend with lots of fresh, local veggie and meat options!
Note: food and drinks are not included in this ticket price.
When you arrive please check in at the winery and give your name for confirmation.
Campers may set up on Friday from 10am to 4:30pm or after the concert. Campers joining on Saturday or Sunday may set 9am to 11:30am or after 8pm on both days.