When:
March 21, 2020 @ 7:30 pm – 10:30 pm
2020-03-21T19:30:00-07:00
2020-03-21T22:30:00-07:00
Where:
Gatton Hall / First Congregational Church
4515 W Hills Rd Corvallis
OR 97333 USA
Cost:
$8-$10 minus $2 CFS, EFS, walker, bike rider / free 18 & under
THIS EVENT HAS BEEN CANCELED
Cascade Crossing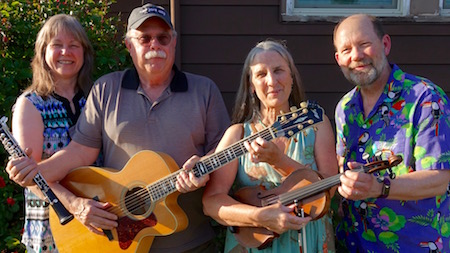 Sarah Goss – Bass, whistle, oboe
Rich Goss – guitar, percussion
Lori Prime – Fiddle
Carl Thor – piano, dulcimer, mando
Cascade Crossing has been active since 2006, and they have played up and down the west coast from Juneau to San Diego. They have a reputation for intense creativity, and a habit of energizing dance crowds. Cascade Crossing includes Lori Prime (fiddle), Sarah Goss (whistle, oboe), Rich Goss (guitar, percussion), and Carl Thor (piano). Wherever they play, Cascade Crossing lights up the dance hall with an exciting palette of musical colors and textures, from hard-driving reels to smooth, mysterious jigs and romantic waltzes.
Shell Stowell
started contra dancing in 2015, and has been dancing up and down the West coast ever since. Driven by her passion for the dance, music, and community, Shell now plays the fiddle and helps to organize the Corvallis Contra Weekend. As a dancer, Shell is known for her enthusiasm on and off the dance floor. As a caller, she incorporates her love of teaching, organizing, and music to strive for clear, energetic instruction and variety in her programming. Shell also emphasizes safe, inclusive dance etiquette that promotes positive communication between dancers.
Beginners lesson starts at 7:00pm (experienced dancers welcome) dance starts at 7:30pm
Each dance is taught.  No partner necessary (it's traditional to dance each dance with a different partner)
First and Third Saturdays of the month except July, August. Occasional special dances.