When:
February 18, 2018 @ 7:00 pm – 10:30 pm
2018-02-18T19:00:00-08:00
2018-02-18T22:30:00-08:00
Where:
Gatton Hall / First Congregational Church
4515 W Hills Rd
Corvallis, OR 97333
USA

Cost:
$10, 18 and under $6
Special
post-Contra Weekend
Contra Dance
Starts 1/2 hour earlier and costs $10 or $6 for people 18 and under
Uncle Farmer
Uncle Farmer is Ben Schreiber on fiddle and Michael Sokolovsky on guitar. With an Irish and New England sound at its core, the duo is known for its original dance tunes, modern twists on old favorites, and sets mixed with pop rhythms and improvisational flair. Their performances range from sweet and nostalgic to gritty and energetic, and their sound truly fills both the room and the hearts of dancers.
Audrey Knuth – Fiddle
Jeff Kaufman – Mandolin, Trumpet, Feet
Amy Englesberg – Piano, Accordion
An energetic dance band from Boston, the Free Raisins fuse New England roots with a modern groove. They promise a versatile mix of supremely danceable tunes—come out and get your two scoops worth!
Susan Petrick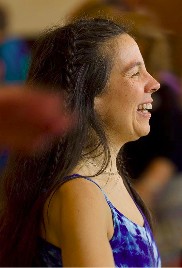 Susan Petrick has been calling all over the country for more than a decade. Her gracious manner along with her clarity and confidence on stage have made her one of the most sought after callers in the Pacific Northwest.
As a dancer herself, she knows what makes dancers happy and as a caller, she is always conscious of what is happening on the dance floor. Susan brings with her a diverse collection of dances featuring many flowing and flirty contras that will please your feet and satisfy your soul!
Will Mentor
Will Mentor is a contra and square dance caller from Northern Vermont known for his clear teaching, upbeat wit, and relaxed stage presence. He loves to choreograph evenings with a variety of dances and tempos that at times surprise and always delight, all the while keeping intact his guiding principle as a caller: "It's about the dancers!"
Beginners lesson starts at 7:00pm (experienced dancers welcome) dance starts at 7:30pm
Each dance is taught.  No partner necessary (it's traditional to dance each dance with a different partner)
First and Third Saturdays of the month except July, August. Occasional special dances.