When:
February 2, 2019 @ 9:30 pm
2019-02-02T21:30:00-08:00
2019-02-02T21:45:00-08:00
Where:
Bombs Away Cafe
2527 NW Monroe Ave
Corvallis
OR 97330

Michael Hurley

Michael Hurley is an American folksinger, guitarist and fiddler who became a part of the Greenwich Village music scene in the late '60s and '70s. Born and raised in Bucks County, Penn., Hurley released his first album in 1964 on Folkways Records. But he remained inactive in his solo career, occasionally lending songs to the Holy Modal Rounders and the Youngbloods until the early '70s, when he wrote two more albums: Armchair Boogie and Hi-Fi Snock Uptown.
Hurley intermittently released albums throughout the '80s and '90s, mostly by himself or on small labels. In 2001, Locust Music reissued his first album, renaming it Blueberry Wine, with new artwork by Hurley himself.  In 2011, Hurley's first book of lyrics was released by the Quebec book publisher L'Oie de Cravan. It contains the original English lyrics to 19 of his songs calligraphed by the author, a foreword by critic Byron Coley and a French version by Marie Frankland, winner of the 2007 John-Glassco prize for translation.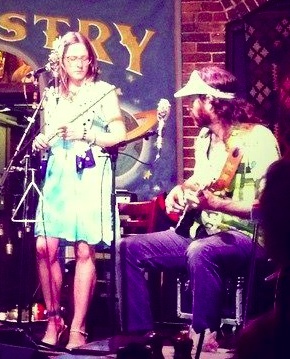 Opening for Michael Hurley will be
Mouth Painter
Mouth Painter's music is at the intersection of country/folk, drone, & exotica, blending the lines of tradition and experimentation. Their music is influenced by the sounds of nature, the geologic continuum, Keith Whitley, Elisabeth Waldo, Halpern, etc