When:
May 13, 2019 @ 7:00 pm
2019-05-13T19:00:00-07:00
2019-05-13T19:15:00-07:00
Where:
Unitarian Universalist Fellowship
2945 NW Circle Blvd
Corvallis
OR 97330

Cost:
$16 / $14 CFS adv +$2 atd
Piece of Peace Concert
Yair Dalal and Dror Sinai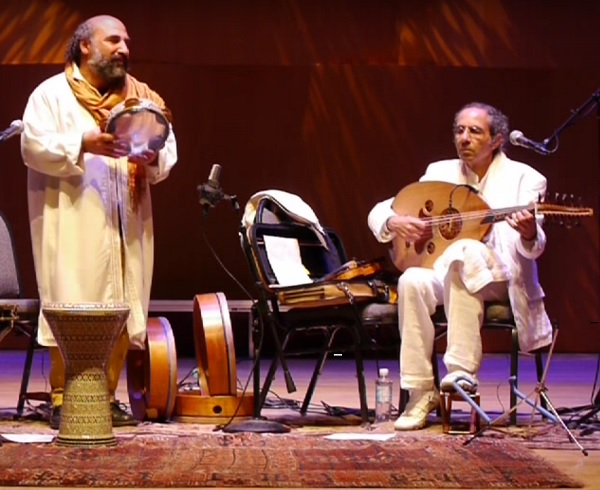 We are incredibly fortunate to have 2 world renowned masters coming to Corvallis! They bring a detailed tapestry of middle eastern rhythm, accented with Yemenite and Iraqi overtones, and spiritual melodies to take you back to the desert.
Travel back in time to see Yair Dalal and Dror Sinai, performing their Piece of  Peace concert at the Unitarian Church in Corvallis!
Yair Dalal, international Israeli composer, violinist, oud player, singer and teacher, comes to us by the way of Israel, with Iraqi origins. A prolific ethnic musician, he has recorded 14 albums, playing an important role in shaping the world global music scene. Much of Dalal's work reflects his extensive musical skills in classical European, jazz and Arabic styles.
Besides his musical endeavors, Dalal is  a peace activist, devoting much of his time and energy to building bridges of understanding and creativity between cultures, most notably between Arabs and Jews.  Dalal has won several Israeli and international awards for his contributions to Israeli music.
Dror Sinai will transform you, as his melodic drumming blends into  song, and creates a wonderful  world of healing rhythm. Dror will play the riq, darbuka, and frame drum with his Israeli-Yemenite roots.
Dror Sinai is an international performer, educator, leader, healer, and energy facilitator.  He is the  founding member of the World Music Committee for the Percussive Art Society. He  presents lectures, clinics, retreats, and workshops  to diverse audiences including schools, universities and Jewish Communities.  He resides in California, where he teaches drumming and performs locally. He leads tours to Morocco, where he also performs and shares his musical gifts.  Dror encourages personal development, World peace and life enhancement while focusing on making the world a better place.