Presented by The Corvallis Folklore Society
Jim Malcolm  & Susie Malcolm  (from Scotland)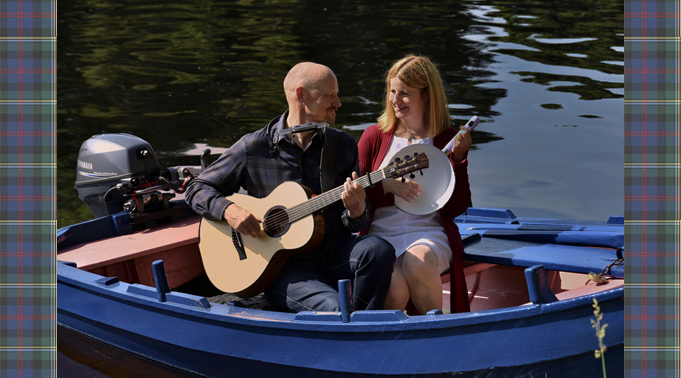 Corvallis has a special treat coming on Feb 6. 
Jim Malcolm has done highly entertaining concerts here before, but always by himself.  I enjoyed the music that Susie and Jim did together when we visited them in Perth, Scotland.  Susie adds a lot to the show.  The image shows them having a bit of fun;
Susie does not play an instrument, that is a frying pan.
Thursday, Feb 6, 2020, 7:30 pm
First Congregational United Church of Christ,
4515 West Hills Road, Corvallis, OR
Tickets available from Jan 5 at Grass Roots Bookstore: $20 in advance or $22 at the door ($2 off for CFS members and seniors).Tickets will also  be online at Ticket Tomato :    https://www.tickettomato.com/event/6450
Further info:  Dick Thies , 541 753-8307  or   newsletter@CorvallisFolklore.org
He's Scotland's Songwriter of the Year in 2004 and three-times nominated for Scots Singer of the Year. This year Jim will be performing with very talented wife, Susie, who has often sung backing vocals and sometimes the lead on Jim's recordings.   The Malcolm's concerts are like a musical tour through Scotland's landscape and history, with humor their constant companion. There are  award-winning original songs, traditional ballads and the works of Robert Burns, with guitar and harmonicas. Jim's harmonica work is pretty hot.  He is seasoned entertainer with a great voice and has sold out here before, so I recommend getting tickets early
 Here are David Kidman's words about their latest recording together:
"For his 14th album, favorite Scots troubadour Jim is joined by his wife Susie, who's often sung backing vocals on Jim's albums but here takes equal part in this collection of duets – including taking the lead on several songs – and the two singers sound very well together in happy consort throughout. Although a number of the songs embrace romance and elopement, there's more than the usual quota of happy endings (False Lover Won Back, Braw Sailin'). There's humor too (The Lass Of Killiecrankie, and a frisky take on Jack Foley's ode to whisky, A Bottle O' The Best). Even so, the album highlights for me are Jim's own compositions., This is a most cherishable CD."
Other Jim Malcolm reviews:
"One of the great Scottish voices of our time"  Frank Hennessy, BBC Radio Wales
"Quietly, unforcefully and undeniably stunning"  Mojo
"A master of well chosen words and melodic inventiveness"  Rock 'n' Reel
"One of the finest singing voices in Scotland in any style"  Living Tradition