Regular CFS contra dance evenings in Corvallis are on the first and third Saturday of the month except in July and August. There are occasional special dances too.
Please check the Calendar of Contra dances for individual dance details.
Our dances always have a caller and live music, usually a band with 3 or 4 members who play a lively mix of instruments that might include fiddle, guitar, mandolin, piano, banjo, (bag) pipes or pretty much anything
We begin with a "newcomer's session" of dance instruction at 7:30 pm
The "main" dance is from 8 pm to 11 pm with an intermission
Beginners are always welcome. We think this is a very easy and
We draw dancers from every age and ability from teens to retirees
Dances starts with a "walk through" to teach the dance sequence, and is called during the dance
The price is now a sliding scale of $7 to $10 at the door. CFS members get a $1 discount, as do people who arrive by bike or foot. People 18 and under get in free. There are occasional special dances with visiting special and nationwide bands at different prices.
We suggest that dancers wear "cool, comfortable, casual clothes". "Swirly" skirts are common, as are shorts (contra is aerobic!).
We suggest flat shoes with clean soft soles. Tennis or gym shoes are fine.
Please refrain from wearing fragrances, perfumes, and colognes. Some of our dancers have chemical sensitivities.
Quite often, a CFS member will host a potluck before the evening dance. Often, several dancers will get together at a local bar or restaurant after the dance to talk and wind down.
For more information contact Jennifer Carlin: phone: 541.231.0008 or email: Contras @ CorvallisFolklore.org.
The Feb to June, 2017 Contradance Schedule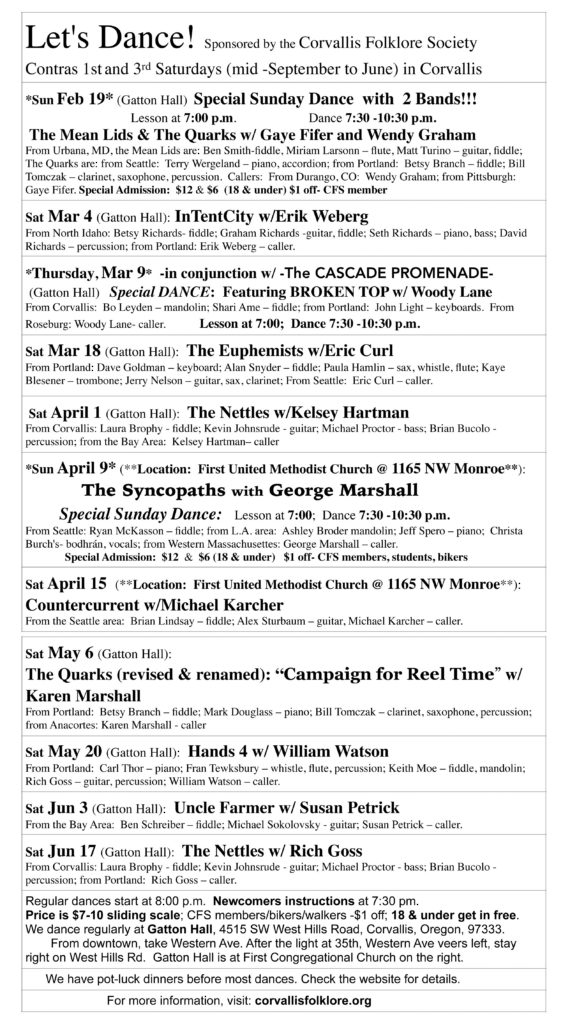 **********************************************
Special Dance Event of Interest
**********************************************
Each Presidents day weekend, we host the Corvallis Contradance Weekend, a full weekend of contra dance, music and community.
---
---
Corvallis Dance Locations:
FCC Gatton Hall (First Congregational Church)
4515 West Hills Road, Corvallis, Oregon

View Gatton Hall in a larger map
FUMC Community Hall (First United Methodist Church)
1166 NW Jackson Avenue. We use the community center, on the southwest corner of 11th and Jackson. It has a large parking lot.

View FUMC Community Hall in a larger map
Chintimini Senior and Community Center
2601 NW Tyler Ave

View Chintimini Senior and Community Center in a larger map
Boys & Girls Club of Corvallis
1112 Northwest Circle Blvd, 757-1909

View Boys and Girls Club in a larger map
Cheldelin Middle School
987 NE Conifer, between Hwy. 99 and Hwy. 20.

View Cheldelin School in a larger map
Where else can I dance?
Corvallis Hoolyeh Folk Dancing — 1st and 3rd Sundays at the First Congregational Church on West Hills Road. Time: 7 to 9 pm. Costs: $3, discount for CFS members
Ashland contra dances — USUALLY third Saturdays in Ashland
Ashland Heather and Rose Country Dancers — Gender free dances every Monday, 7:30 to 9:30
Astoria contra dances — Monthly (dates vary). For more information, call (503) 325-0278
Bend contra dances — Second Saturday (Oct to April, sometimes 4th Sats too!)
Coos: South Coast Folk Society — Third Saturdays at the Greenacres Grange between Coos Bay and Coquille. Start time 7:30pm
Eugene Contra Dances — 2nd & 4th Saturdays
Corvallis contra dancers heading to Eugene will often meet up by 7:00 pm in front of the New Morning Bakery (219 SW 2nd Street) to carpool.
Eugene English & Scottish Country Dance — Every Thursday 7:00pm
Hood River contra dances — Second Saturdays
Klamath Falls contra dances (Facebook page) — OCCASIONAL Saturdays in Klamath Falls
La Grande contra dances — Second Saturdays (NE Oregon Folklore Society)
McMinnville English Country Dance Lessons — Every Thursday (with break from Thanksgiving through New Years)
Newport Contra Dance — Usually fifth Saturdays (roughly quarterly). (disbanded)
Pistol River ContraDances — 3rd Fridays at 24252 Carpenterville Rd, Pistol River, OR
Portland Contra Dances — Every Saturday (some hosted by PCDC)
Salem contra dances — Irregular, often fifth Saturdays
Vancouver, Washington contra dance — Second Friday
Elsewhere — Contra Dance Links on the Web
Elsewhere — The Dance Gypsy (excellent coverage of New England, good elsewhere, and lots of camps)