International Folkdancing in Corvallis
There has been International Dancing in Corvallis for many years. In the 60's the group started to call themselves the Hoolyehs. The Hoolyehs sponsor three types of folk dance activities: regular Sunday night dances, an annual reunion dance in the spring, and occasional dances with visiting live bands.
The Hoolyehs meet the first and third Sundays of every month from September through June at the First Congregational Church from 7 pm to 9 pm. Early in the evening some simple dances are taught. The rest of the evening is open to a wide variety of dances – couple dances,  line and circle dances from around the world.
Cost: $4 non CFS members, $3 CFS members and $2 for children
Where: FCC Gatton Hall (First Congregational Church)
4515 West Hills Road, Corvallis, Oregon
---
Eugene Balkan band Kef to play for Hoolyeh Folk Dance, Sunday November 18, 2018
Kef is Eugene's own Balkan dance band.
Focusing on music from Bulgaria and Macedonia their repertoire is equally suitable for a folk dance or a late night party. Kef will be coming with their versatile brass band (without acccordion and cello) and be covering the sound of Romani and Macedonian Greek brass bands with a solid percussion rhythm section.  Musicians for our dance will be:
Cody Simmons, trumpet                     Alex Lowe, trumpet
Nisha Calkins, baritone                      Shannon Sinderson, baritone
Ryan Chaney, tuba                              Ken Sokolov, tupan
Walter Bender, snare drum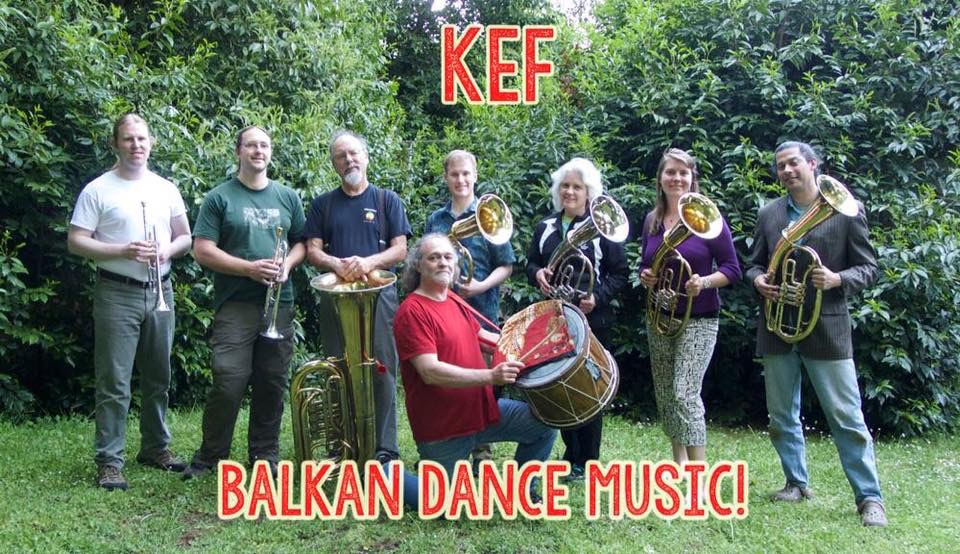 They will play for the Hoolyeh Sunday dance on Sunday, November 18th, 2018 from 7 pm to 9 pm at Gatton Hall, First Congregational Church, 4515 SW West Hills Road, Corvallis. Donation for this event is $8 for adults, $7 for adult CFS members, and $5 for ages 18 and under.
---
International Folkdancing in Albany
We are a recreational international folk dance (IFD) group that meets in Albany Oregon on Tuesday nights from 7:15-9:15 pm at a dance studio near West Albany High School.
Each week has request dancing and usually some teaching or reviewing mixed in.
New dancers are welcome and encouraged! We mainly do non-couple dances, so partners are not required.
Where: Holcomb Dance Studio. Joyce and Gordon Holcomb host Albany Oregon Folk Dance, and have done so since 2011.  Joyce is the main teacher in our group, while Gordon programs and runs the music.
Admission: $4
Website: AlbanyOregonFolkdance.weebly.com
Or contact Gordon and Joyce Holcomb for more information: email: grholcomb96@gmail.com  phone: 541-967-8017
For directions/information: 541-967-8017 or grholcomb96@gmail.com
Visit the website for more information: albanyoregonfolkdance.weebly.com
---
Annual Reunion Folkdance Party
Every spring, usually the last weekend in April, the Hoolyehs hold a big party at the Mary's River  Grange in Philomath. We dance from 7 pm til midnight. The cost is about $10 with all proceeds going to the McCauley/Rice scholarship fund that helps send a folkdancer to a summer camp to learn new dances and return home to teach us what they learned.