Submit calendar info to:
calendar@corvallisfolklore.org
May
25
Fri
Best Cellar

@ Methodist Church
May 25 @ 7:30 pm – 10:00 pm
7:30 Dave Plaehn and Jeff Hino
Dave Plaehn and Jeff Hino are the Corvallis Blues Brothers.
Dave Plaehn & Jeff Hino have been performing their own distinct blend of acoustic blues, folk, and original material since 1990. Plaehn and Hino explore the uncluttered powerful interplay of blues harmonica, National steel guitar, and vocals in the tradition of the great country bluesmen like Robert Johnson, Elmore James, and Bukka White.
"It's a nice reminder that not all the talented musicians in this state are based in the city at the terminus of the Willamette River. This is roots music at its finest played by craftsmen in the deepest sense. This is a duo that has a lot to say and the skills to back those voices, too."
Greg Johnson, President,
Cascades Blues Association
"Two talented blues musicians who offer a fresh and diverse array of original and traditional acoustic based compositions. Treat you ears to a real pleasing performance."
Rod Downing, President,
Washington Blues Society
8:30 Audrey Perkins and Friends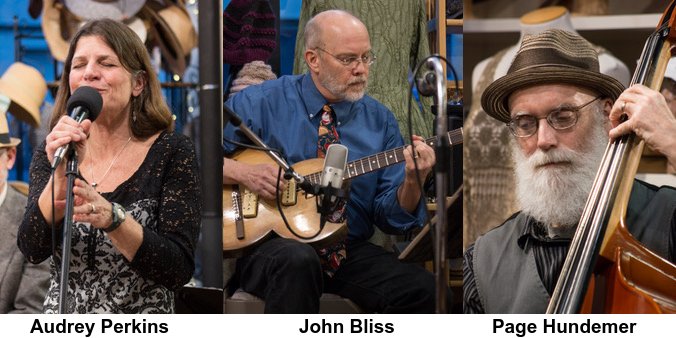 John Bliss (guitar, mando), Page Hundemer (bass) and Audrey Perkins (vocals), come together again for an eclectic set of swing, a tune by Peter Mayer, one by Jason Isbell, an old gospel song, a much-needed protest song and other tunes we love.
We planned this as a special double-bill as we share the evening with Corvallis favorites Dave Plaehn and Jeff Hino, the area's premier blues duo.  Cross pollination likely.
Hope to see you there for this spring evening of Corvallis musicians!
The best Cellar is a once-a-month evening of acoustic music. Admission is "pay what you will," and kids are free. Cookies and coffee are available. Located in the cellar of the Methodis Church on 11th and Monroe, in Corvallis. For more information, or to join the volunteer team, contact Mark Weiss at mjweiss@cmug.com
Jun
15
Fri
Best Cellar

@ Methodist Church
Jun 15 @ 7:30 pm – 10:00 pm
Acoustic Beatle Fest

Performances by many local performers.  Watch this site for further details.
The best Cellar is a once-a-month evening of acoustic music. Admission is "pay what you will," and kids are free. Cookies and coffee are available. Located in the cellar of the Methodist Church on 11th and Monroe, in Corvallis. For more information, or to join the volunteer team, contact Mark Weiss at mjweiss@cmug.com