Also for  links to daily online folk music events: https://portlandfolkmusic.org/
***Folk music on the internet
If you miss baseball or John McCutcheon, check out
https://www.facebook.com/Institute.of.Musical.Traditions/videos/2993769944046742/
John is doing an online concert each Sunday at noon PDT – check out his facebook
page https://www.facebook.com/John-McCutcheon-166909916655518/
  ***From Chere Pereira:
There are many musicians who are performing on facebook. 
Here are two great ones:
Sally Rogers Music  (a song a day; and there is an exceptional version of  Lovely Agnes with Claudia Schmidt)
Susan Werner (has something every Sunday at 4 PM).
***From Dick Thies
Pint & Dale  Sing the Blue Ocean,  Sunday, Jan 17, 2:30 pm pacific time
A YouTube Livestream Concert
So, if you've been pining for shanties, forebitters, and sea ballads, or just yearning to hear the plaintive cry of the hurdy-gurdy — mark your calendars for Sunday, January 17th for our very first livestream concert of 2021.
Notice: There is no admission charge for this concert, no ticket is required, no membership. Anyone who tells you otherwise is trying to scam you.
This link will lead you directly to the concert:
https://youtu.be/TQ3WdQ42nbw
**********
Deadwood Revival , JFFA Benefit Concert, Sat. Jan 23, 7pm pst
You may recognize them as members of Joy In Mudville, one of the Juan de Fuca Festival's most popular local bands, but Kim Trenerry and Jason Mogi have been playing music together since the mid-'90s.  On Saturday, January 23, 2021, they'll reprise their original duo, Deadwood Revival, for a special one-night only show!
The live-stream concert is FREE…and it's a fund-raiser to benefit the Juan de Fuca Foundation for the Arts, so we urge you to please give generously to this great cause.
RSVP for the show at: https://jffa.org/winter-benefit/.  Registered patrons will receive event details, a link to the live-stream show, a reminder on the day of the event, and access to an online auction, which opens on Monday, January 18th.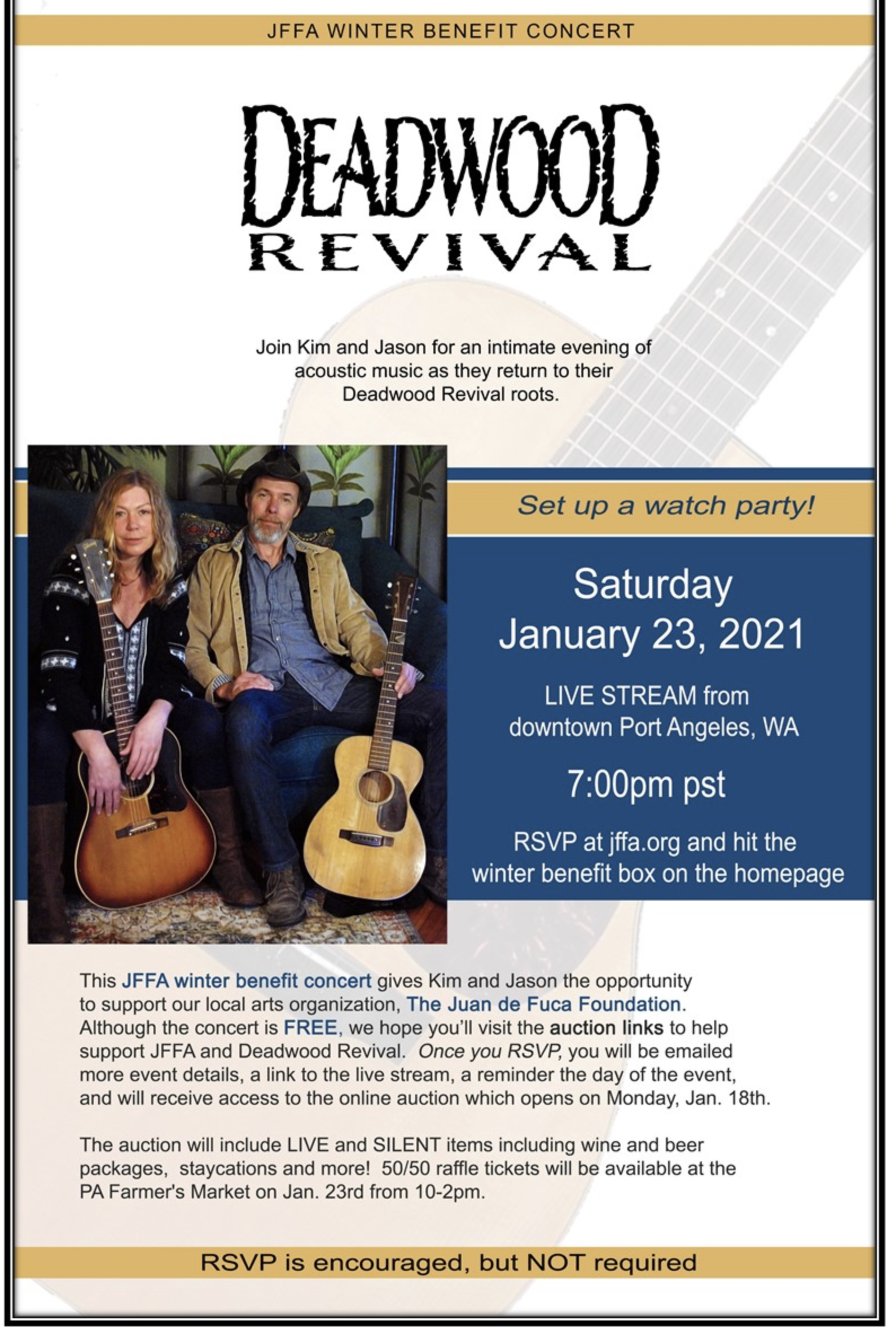 These folks were great on the  OSU Summer Concert Series!  I couldn't be happier about the revival of Deadwood Revivalfor this special cause! Please tell your friends and family and join us on January 23.  This free concert, benefitting the Juan de Fuca Foundation (JFFA.org), will stream from both Youtube and Facebook sites…. The links will be sent once you RSVP.  Click on the flyer for more info~     You might also want to check out their homage to John Prine with Long Monday.  The outtakes are priceless! 

The music does live on!   We sure remember those OSU concerts fondly!  I think we performed there at least three years!

Hugs and smiles,    

Carol Pope
************
Coming up next month  — A special February Concert: Songs of C.Fox Smith and Janie Meneely! Details to follow.