Submit calendar info to:
calendar@corvallisfolklore.org
Jul
7
Fri
The Nettles & Noah Contra Dance

@ Oregon Country Fair
Come support Contra Dance and The Nettles at the 2017 Oregon Country Fair!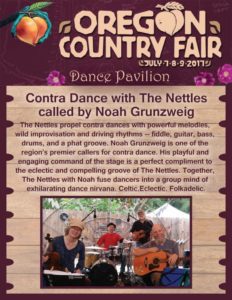 The new Xavanadu area and the Dance Pavilion are hosting a plethora of amazing dance performances, interactive and social dance experiences for all ages and dance abilities. Including appearances from West African, Samba, Rollerstar, and Bhangra. Check out the entire lineup!
Contra Dances with the Nettles will be held at the Dance Pavilion:
Friday afternoon, 5:50 – 7:00 pm
and
Sunday afternoon, 12:20 – 1:45 pm
Calling will be by the illustrious Noah Grunzweig of Portland. Brief introductory sessions will be given before each dance. Tell your friends, bring them along, enjoy the fair!
Day and weekend tickets are available at various locations, check the many outlets available and TicketsWest (and check for coupons in various newspapers and promotions). No tickets are available at the fair site! Carpool or bus to the site if you can (saves money, saves stress).